Unpopular opinion alert: I think BuzzFeed is a really smart company.
Yes, the company that built its reputation on listicles, clickbait headlines, and annoying viral quizzes. Oh, and those overhead cooking videos you get sucked into watching on Facebook once a week (admit it!):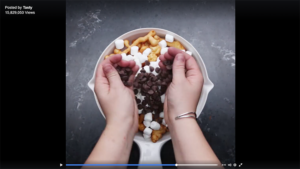 I'm talking about their video series called Tasty, which racked up 1.1 billion views…in June alone. But it's not just BuzzFeed's audience-building skills that make them smart. It's what they're now selling to those audiences.
For example, did you know they released a Tasty recipe book last year that's already sold over 150,000 copies?
That's why I was fascinated last week when they announced their most ambitious product launch yet—an induction cooktop called the One Top that connects to their all-new Tasty app and cooks your favorite recipes for you.
That's right—tell the app which recipe you want to cook and it will automatically adjust the One Top's temperature and settings to follow the recipe. It'll even tell you when it's time to flip your pancake.
They created a sales page to pre-sell the One Top that's full of lessons for anyone creating or launching products—and I'm diving deep into it in my latest copy breakdown!
Tip: If you're on mobile, turn your phone to landscape for the best experience!
---
So, what do you think of the One Top sales page? Ready to buy one? Have doubts? Just hungry? Leave a comment below and let me know!